Toy of the Year – Throw Throw Burrito
The Toy of the Year election is on again this year and until October 25 you can vote and win great prizes. Three winners are chosen in each category. One of those winners is Trow Trow Burrito from Asmodee and we got to try out this game at home.
What do you think, will it be a winner? Read on quickly.
Throw Throw Burrito
The party game Throw Throw Burrito by Asmodee is nominated as winner in two categories. There are three winners per category. Find Throw Throw Burrito among the winners in the 12 to 17 years category and the Family Games category. It's a party game for 2 to 6 people, 7 and up+
information about the game
Throw Throw Burrito is a funny party game from the creators of Exploding Kittens. A combination of a card game and dodgeball, this family game revolves around collecting cards, earning points and throwing toy burritos at each other. Score points by finding sets of three of the same cards, such as the Gothic Sloth or Tacky Chick.
But beware: some sets start a Burrito fight where you have to dodge the Burritos!
The rules of the game
Box Contents:
120 cards
2 Burritos
6 burrito tiles
1 King Burrito decal
Clear game explanations, game variants and the rules for hitting, missing and catching the burritos.
The goal of the game
The goal of this game is to win two rounds by earning the most points. Earn points by passing cards around the table and try to collect a set of those same cards as quickly as possible.
Some special sets start a burrito fight, where the first person hit by a burrito loses a point.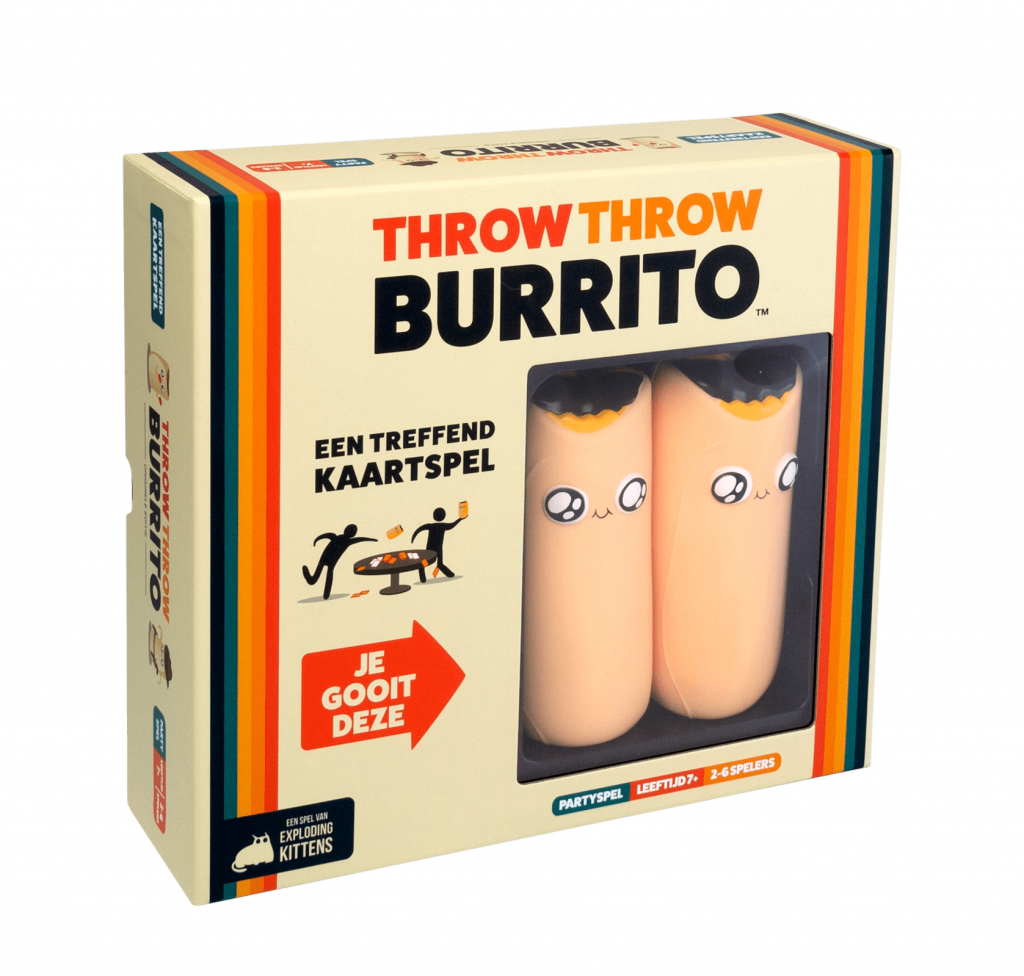 The jury report
Why Throw Throw Burrito is a winner:
Throw Trow Burrito is a cheerful game in which players must swap cards as quickly as possible to make sets of three of the same cards. Each set scores points at the end of the game. Each player has five cards in hand and each time takes a card from the pile on his/her right and discards another card on the pile on the left side. The discard pile is also the neighbor's pile, so the cards go around at a rapid pace.
Among the cards are also special burrito cards. When a player has a set of three burrito cards, two players must have a burrito fight, pelting each other with a fake burrito.
Whoever gets hit first gets a penalty point. Then the game continues. The speed effect and burrito fights create excitement and lots of hilarity.
For this game, reaction speed is especially important. A funny and activating (party) game to play with friends or family.
What we think of the game
Throw Throw Burrito is a fast game. That may make playing a game with teenagers in the house extra fun. You don't have to wait for each other's neighborhood, because you all play at the same time. Next to you on the table you have a pile of cards and in your hand you hold 5 cards. Of these, you must always make sure you have three of the same cards.
If you have three identical cards then call this out and place them on the table. You can't have more than five cards in your hand, and whichever one you want to get rid of you put it with your neighbor or wife.
It quickly becomes chaos, especially when one of the players has three of the same cards that say bonje, war or duel. When someone calls this, the task is to grab and throw the burrito as quickly as possible or duel with the burritos. If you lose at the toss, one point is deducted from your score.
Surprise effect in the game
The game has a big surprise effect. You can have as many equal cards as you want, if you lose by throwing the Burrito you lose points. The chaotic, surprising and quick nature of this game, make it a success here at home!
Curious about the game? Click here for a point of sale