Ring Fit Adventure- Nintendo Switch. Get fit
With gaming you quickly think of sitting on the couch, consoles in hand and doing nothing else.. But that will change. Recently, the Nintendo Switch has a new fitness game 'Ring Fit Adventure'.
Put on your running shoes and exercise.
More Sports games on the Nintendo Switch
I work from home a lot these days and I find that I don't exercise as much. I can't run anymore because of knee problems and I want to get in better shape without exercising. Now I still do some things so I walk a lot and train my arms with the Nintendo Switch fitness Boxing game. With the Boxing game, I actually learned for the first time that the Nintendo Switch is fun not only for the kids, but for me as well.
Ring Fit Adventure keeps you moving!
Now Nintendo is coming out with a new sports game. Namely Ring Fit Adventure. Ring Fit Adventure is a fitness video game for the Nintendo Switch! Grab the Ring-Con, put on the leg strap and have an adventure full of fitness exercises!
Discover a colorful fantasy world and defeat a powerhouse of a dragon and his subjects by doing all kinds of exercises. Jog in place to run through grassy plains, perform exercises to attack enemies and replenish your energy meter with yoga poses.
Regardless of your fitness level, goals and time schedule, you can train with the Ring-Con and leg band. These extra's that you buy all in one measure all your movements and translate them into actions in the game. There are minigames and you can put together your own workout.
Ring Fit Adventure is athletic fun for everyone.
Entering the adventure
In the adventure, you must battle monsters by choosing from over 60 fitness exercises. There are 100 courses in more than 20 areas. During the workout you are instructed to do squats, train your tube muscles or other exercises. Do a good yoga pose?
Then you damage an enemy.
Playing against others
You can also play against others. You do this by passing the Ring-Con to someone else. You choose from 12 mini-games. You can also put together your own workout, combining exercises and mini-games to really work up a sweat. You can even track your performance with estimated stats by using the right Joy-Con's built-in infrared motion camera.
For example, they can estimate your heart rate or how many calories you have burned during a workout. Nothing more stands in your way to achieve your goal!
The boys jump and run with the Ring Fit Adventure
The boys have played soccer for years, athletics and now they climb. Also occasionally run and bike with my husband when he goes running. During the day they sit a lot, at school, but also at home. They get to play games for half an hour to an hour every day. A little exercise is not a bad thing.
On October 18, the Ring Fit Adventure was introduced in the Netherlands and that same day we received the game in our house. They wanted to try it and were immediately enthusiastic.
The first time you start you get a detailed explanation. You learn how to use the Ring-Con and leg strap and how to exercise. You fill in your age, training capacity and a special training will be set up for you.
During the workout you are constantly reminded to drink good water and stretch.
Tough in-game exercises
It is super heavy, you run, do squats, train your abs and arms. While exercising you fight dragons, run along the mountains and hills and in the meantime you pick up coins by moving the Ring-Con. Because you are watching a fictional person you don't realize you are playing sports, but you certainly are and it is sweating too.
I stay present when the boys play Ring Fit Adventure, this is also indicated when you start the game. But actually, in terms of risk of injury, they can't do anything wrong. Because of the Ring-Con and leg band, everything is monitored so you'll be told if you're doing a move wrong.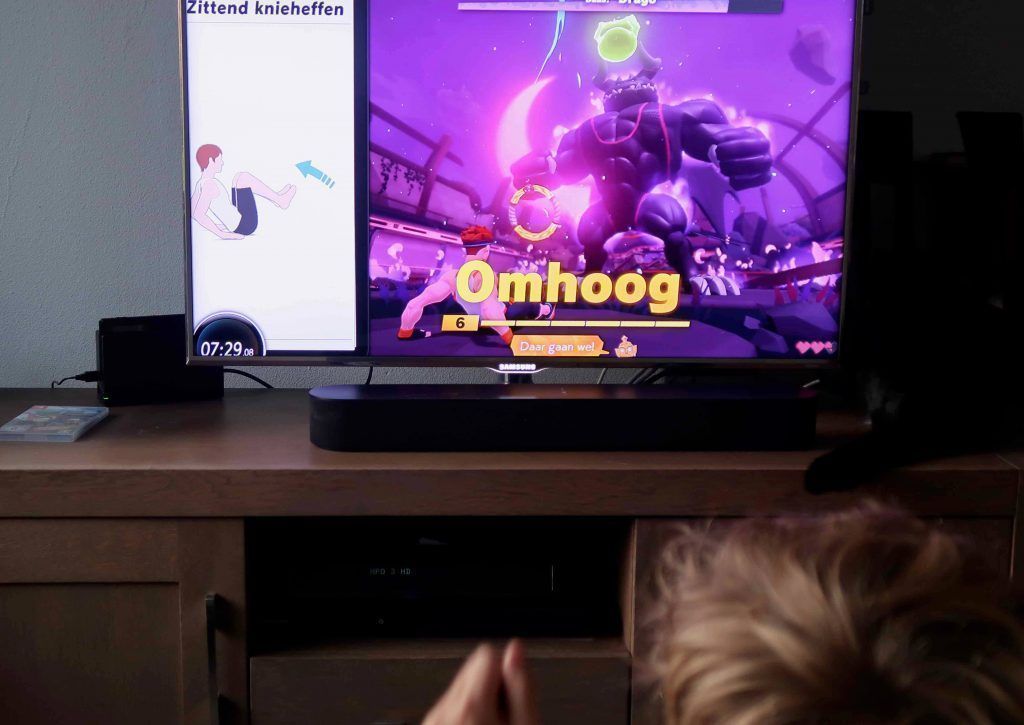 Is Ring Fit Adventure also something for me?
I am not allowed to bend my knee too much so running with the Ring-Con and leg band is not for me. But still I can also exercise with Ring Fit Adventure. There are different ways to work out. I don't grab the full workout, but the individual exercises. I can pick and choose these myself.
In addition, I can practice by just sticking moves from the game together in a training set.
Working out is fun this way
In-game workouts feel intense regardless of play style. I really enjoy training with the Ring Fit Adventure. I can do it in my own time, at my own level and it is very stimulating to train with the Ring Fit Adventure.
The leg band and Ring-Con really give you the idea that you have a personal trainer, he gives you instructions, encourages you to continue and helps you through the exercises. Highly recommended! Also make sure you eat healthy, it is of course a collaboration of healthy food and exercise.
Want more games for the Nintendo Switch that are just for adults? Then Dr. Kawashima's brain trainer might also be something for you.