Shampoo bar – A good step towards less plastic waste
You can reduce plastic waste by washing your hair with a shampoo bar. These are durable, environmentally friendly and it saves a lot of plastic bottles. But how does this work?
Separate waste
We all separate waste nowadays. I am also active in this. Yet I am shocked every time I see what a lot of plastic waste we have.
I would like to contribute to a better environment, buy more sustainable products and get rid of the many plastic waste. One step I am taking is washing my hair with a shampoo bar. I recently ordered these from Shampoobars.and have been using these for a while now.
What are the advantages and how does it work exactly?
No more plastic bottles
Using a shampoo bar instead of bottles is sustainable and eco-friendly. One Shampoo Bar equals 3 plastic bottles and lasts 80 washes on average. When you buy a bar it may be a little more expensive at the time, but if you look at the amount of washes you make with a bar it is (converted) cheaper than most regular shampoos.
The scent of lavender
When I went to order my shampoo bar I chose lavender. Just because I love the smell of lavender, but also because this shampoo bar is suitable as an alternative to silver shampoo. I have had gray hair for years and if I don't use silver shampoo it turns yellowish. When I saw that the lavender bar also has this effect, I knew this one had to be it.
Furthermore, this bar is vegan, animal-tested, good for 80 washes, anti-dandruff and suitable for normal to oily hair.
Wash your hair easily
It is very easy to use the shampoo bar. You only need a little soap to wash your hair and for a fresh feeling. What really surprised me is that I no longer need conditioner after washing my hair. I used to use a spray conditioner, after washing my hair because it made it easier to comb through my hair. After using the bar, however, this is not necessary.
After washing I can easily comb my hair and my hair is not frizzy. Just make sure you put the shampoo bar down in a dry place so it can't get wet when you're not using it.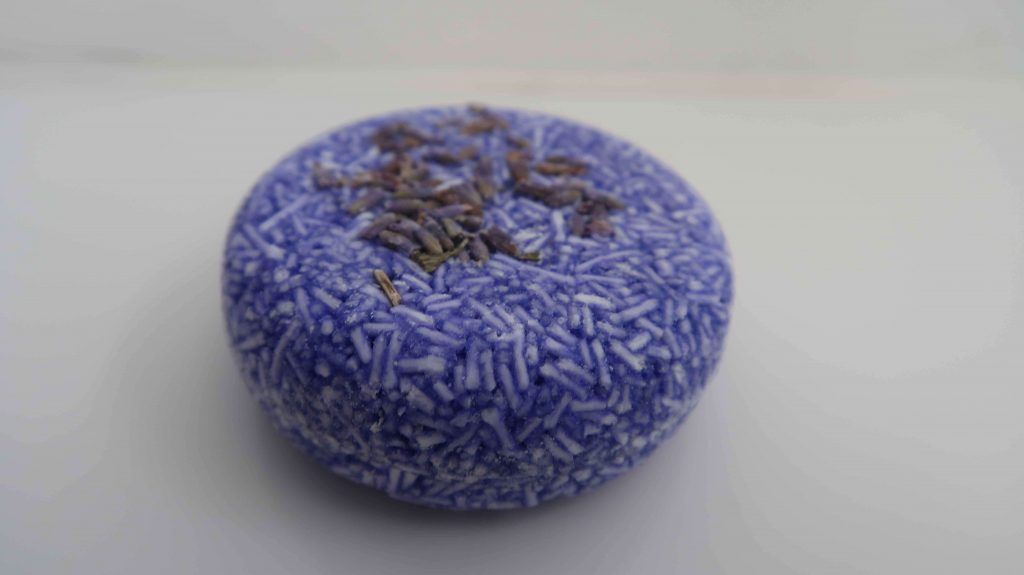 How it works a shampoo bar:
Make sure your hands are wet.
Rub the shampoo bar between your hands. You can also rub the shampoo bar directly on your wet hair.
Massage the foam carefully through your hair.
Rinse the shampoo out of your hair.
Keep the shampoo bar in a dry place.
Sustainable and environmentally friendly
It may only be small steps, but all steps help. With this move, I'm helping to reduce plastic waste. I am very happy with the shampoo bar.
It's good for the environment, sustainable, better for your hair, there is a wide choice and they smell blissful too!
I deliberately choose lavender because I have gray locks in my hair, but do you have red hair, then Red Head Hair Routine is good to maintain your (colored) red hair.