What made me happy 13
What a lovely Indian summer we have these last days. Really enjoy. Last week we had a lot of rain but in between the showers we could go outside a lot. This week we enjoyed the sun, our maternity shower and Lori's.
Want to know what made me happy? Read on quickly.
Which made me happy
1. My little Olivier has been with us for three months already. What a lovely boy he is becoming. I thought it would never grow but it's already becoming a real British bun.
2. Our little man is so incredibly proud and in love with his sister. It is really very cute to see. Sometimes we even have to slow him down because he wants to kiss her all day long.
Even when she is sleeping.
3. This is a mean one because I got a message from my sister on Tuesday saying it was raining hard at their place. This picture I sent back as a reaction. What a lovely weather we had.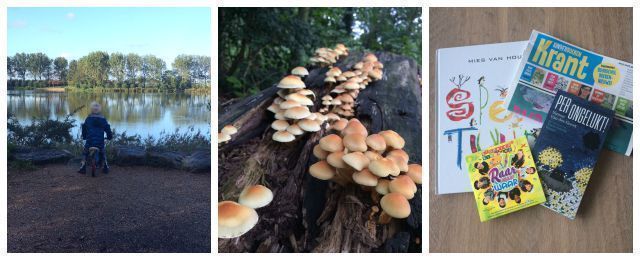 4. This week we went for a walk in the woods every day. The little guy with his balance bike, the little lady in the sling and mommy running her legs out from under her butt. This is how I slowly build up my fitness again.
5. Last week I wrote about the Mushrooms search card that you can request. This week we found a lot of mushrooms. They all had to be photographed so we could then look for them.
6. Secretly I am already a bit busy with the children's book week coming up in October. The press kit has arrived and we have already read the books. Super fun.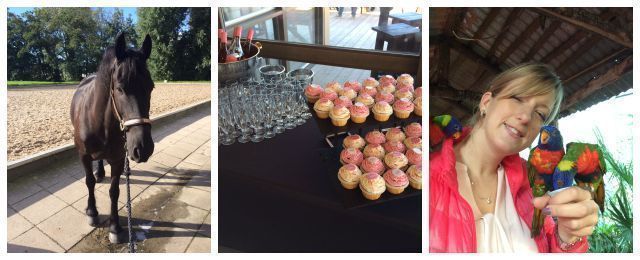 7. I finally got to work with my horse again. Cut, shaved and washed he was ready for his match with my co-rider. They did great together.
I can't wait until I can drive myself again.
8. Saturday we had our maternity party. We are extremely spoiled with beautiful gifts's and a high turnout. We really enjoyed ourselves and everyone got to admire our little lady.
9. Today we went to Avifauna for the day. Having a look at the animals and the little man went wild in the playground. My sister came along so we had a great time.
We also fed the Lori's nectar. Very nice!
10. My sister is staying with us again. Our toddler enjoys it very much because he is very fond of his aunt.
What made you happy this week? Also from the sun?
♥ ♥ ♥ Fulltime Mama uses affiliate links. This means that if you click on one of the links, we may get a small commission on it. It doesn't cost you anything extra, but it does get us something. With these proceeds we can maintain this website. We also sometimes get paid for an article or receive a product in exchange for a blog post.
Our opinion remains unchanged and honest because of this. For more information you can read through the disclaimer. ♥ ♥ ♥